The power of Banksy street art
Many of us have probably heard of Banksy in one context or another. It is impossible to read art news without stumbling over at least one article about this graffiti artist who is famous for addressing political, social, and moral issues through his paintings. The enormous amount of satire in his street art brings our attention to a different side of truth, the one we tend to ignore. His unique way of ridiculing government, corporations, and society has stirred up a lot of controversies and intrigues and practically divided his audience into lovers and haters.
One example is a Banksy image of a girl and a soldier on the West Bank in Bethlehem. The graffiti portrays a young girl searching an armed, uniformed soldier who has his hands against the wall. The image depicts how violated human rights are in many countries and how abusive it is for innocent children to be searched by soldiers on a daily basis. By switching the roles of a girl and a soldier, Banksy ridicules the absurdity of any child having to go through hostility and suspicion.
Banksy is just a pseudonym for the 39-year-old artist who is believed to be born in Bristol, United Kingdom, although his real name is still unknown. The word "banksy" means a form of street graffiti that is done by using stencils, which is a fast and easy way to paint a picture on a wall. Banksy has been compared to French graffiti artists Blek le Rat and Jef Aérosol, and he is considered one of the best and most influential graffiti artists in the world by academic art evaluators, collectors, and examiners.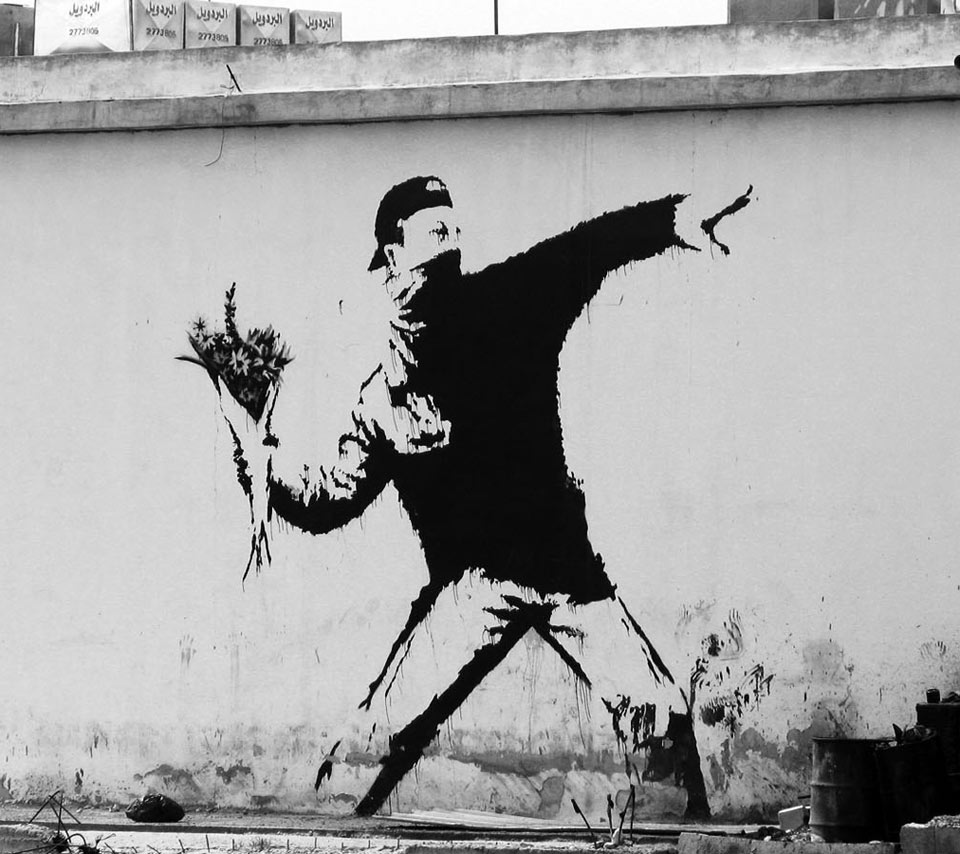 Even though many critics say that Banksy defaces streets by vandalizing public property and that this is an unacceptable way of practicing art, it's hard to doubt that a lot of his work carries influence and educational value to the public. The ability of his art to make viewers think is a skill that not every artist can master. For example, this image of Jesus holding shopping bags in his hands serves as a great reminder for people who are so obsessed with shopping for gifts, that they are completely missing the true meaning of Christmas.
Other critics take more extreme measures such as filing petitions to catch this 'attention seeker' and jail him for property damage caused by his graffiti art.
Nevertheless, many artists feel inspired by Banksy's street art, specifically by the pieces that reflect commentaries on the social order of the country and the issues that are overlooked or disregarded by society and the government. To take it even further, Banksy demonstrated how law enforcement is more occupied with keeping the walls clean from his art than dealing with the real issues that concern the safety and well-being of real people.
The main lesson to take from Banksy's artwork is to always take advantage of an opportunity, take risks, and explore your creativity. He said "what we do in life echoes in eternity", meaning that we need to think about the impact we can have on the world and how peace can be restored and preserved. Banksy shows how sometimes going against the crowd can be the most effective way to communicate important ideas. Doing what you love and what brings you joy is an important aspect of our lives that so often gets overlooked and ignored.
Banksy often uses children in his art as center figures to deliver ideas to society. As a symbol of our future, kids captivate our attention and shake up our self-centered egos. Educating our kids about freedom of expression through art helps them learn and talk about ongoing issues, and it gives them a voice in telling our government that it is never too late to improve.
What are your thoughts? Do you think Banksy is an artist or a vandal?